---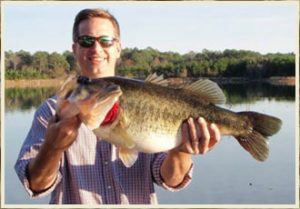 If you're after monster large mouth bass that will challenge you from sunup to sundown our well stocked and professionally managed lakes and ponds, ranging in size from 10 to 70 acres, have what you're looking for.
Our guest-hunters have the opportunity to spend some time upon the pristine waters of Little River Plantation in pursuit of largemouth bass. This unique membership offers the benefit of inviting friends and family whom can enjoy the fishing action. With so many ponds we have different management options for each. Not only can you catch monster bass, but also go for numbers of fun fighting bass, big bluegill and shellcracker-bream. There are even some lakes with crappie known locally as white perch. One lake is slam full of great fighting and tasty catfish perfect for kids or more novice fisherman. Lodging can be arranged for annual members, based on availability.
Bring your boat and tackle, or use ours; our guides will put you on one of our top 14 select managed ponds and lakes.