---
Two facilities – the Lodge and Quails Landing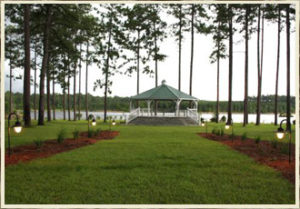 The Southern Bridal Package
If you want a unique southern experience with charm and hospitality, come let us share your special day in the rustic beauty of Little River Plantation Lodge or Quails Landing at Little River Plantation.
This package includes (8) bedrooms (2 double beds per room) for 2-nights, our 30 ft gazebo as a wedding site, chairs and tables for the ceremony or reception. Lodge is equipped with a built-in full bar with all equipment needed for your enjoyment.
Little River Plantation
• 150 white ceremony chairs
• (15) 60" round tables
• (3) 6 ft rectangles tables
Check-in Friday at 10:00 A.M – Check-out Sunday at 1:00 P.M.
Cost of the Lodge is $4,500 a deposit of $1,000 is due at time of booking. The balance of $4,500 is due one month prior to wedding date. The damage deposit of $1,000 is refunded if damages are not found at walk-thru after check-out.
Please Note: Furniture CANNOT be moved inside the lodge!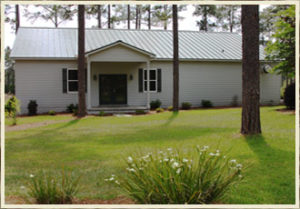 Country Breakfast
Saturday only!
Has to be arranged in advance for people staying at the lodge only. Served between 9:00 a.m. and 10:00 a.m. cost $12.50 per person.
Skeet Shoots
$50 per person
Fridays (afternoon) 2:00-4:00 P.M.
Saturdays (mornings) 9:00- 11:00 A.M.
Reservations have to be made in advance.
Quail Hunting (in season)
Half Day Hunt – $600 per person (unlimited birds)