---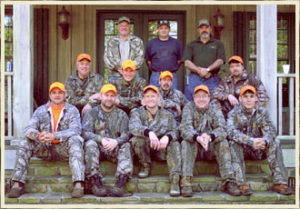 Escape from the stresses of the corporate world in the art of relaxation privileged southern sportsmen have enjoyed for generations. Whether your plans include the pursuit of multitudes of bobwhite quail or Trophy largemouth bass, or a little of both, Little River Plantation can assure the corporate-host he or she will be delighted in our outstanding hunting and fishing opportunities. We pride ourselves on providing exceptional service, exquisite lodging, and custom amenities.
When planning that special event for your most important clients and appreciated coworkers, attention to detail is imperative. The dedicated staff at Little River will tailor to your specifications a custom-presentation which will provide the finest outdoor related event for the entertainment of our valued guests…Southern Plantation Style.
We offer quail hunting Corporate Packages for groups as small as 6 to as large as 16. Our packages are designed to offer the corporate-host the freedom to invite numerous guests, clients, and/or coworkers to come and enjoy themselves at our pristine 22,000 acre Sportsmen's Paradise.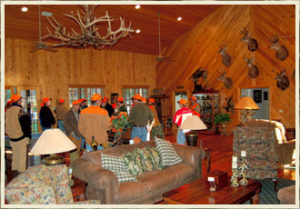 Little River Plantation offers many available options while catering to any individual needs desired by the diverse professionals visiting our Plantation. We provide meeting rooms, for special presentations (between hunts), as well as a brand-new 2800 square-foot banquet and lakefront dining facility at our sister-lodge: Quail's Landing.
Service is exemplary regardless of size, both smaller groups looking for time away from the "hustle-and-bustle" to large corporate retreats, our staff will do whatever is necessary to assure our guests enjoy themselves and feel welcome from the minute they arrive to the minute they depart.
We offer Corporate Fishing Tournaments, boats and tackle provided, on over 1000 acres of pristine ponds and lakes stocked and specifically managed for a quality fishing experience.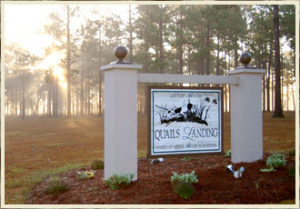 Custom fishing events are held in Spring and Summer and both Little River and Quail's Landing also accommodate groups for other specialty events during the off-season. Cost saved by the host and his or her company is substantial, especially when taking advantages of our mid-week rates, and make purchasing our Corporate Packages a wise entertainment-investment. Please call for more details.